Property managers are notoriously short on time. Despite their best efforts to find time-saving software solutions, most are left with several products, all with separate logins and no cross-platform integrations — leaving them worse off than before.
Fortress helps managers of any size reclaim those precious minutes and hours. In fact, 80% of our users say we've saved them at least an hour a week over legacy systems — time they're spending on more important things.
So, how do we do it? William Durham, our Director of Client Services, explains that our system — built with the user in mind — boasts meaningful features that deliver. These include:
Easy Login and Navigation
Fortress users won't find themselves fumbling around, trying to figure out where to go. Even though we are delivering powerful software, Durham says there's no complexity attached. Our intuitive platform will save time by getting busy property managers where they need to be, with no fuss or unnecessary frills.
Comprehensive Communication
"Users save a lot of time with our Bulk Communications feature," Durham says. And he's right. Fortress users are able to quickly generate and send texts, emails, and letters in bulk, with no need to generate individual communications or login into a third-party software. Managers can generate and send multiple email letters at any time. Leasing professionals can connect and follow up with prospective residents using our simple email and texting feature, too. It's all in our core software — ready for you to use.
On-Screen Filtering
It's alive! Well, at least the majority of screens in Fortress act as living reports and can be filtered to find exactly what a user is looking for. This feature saves time, Durham explains, by sifting through what is actually needed and eliminating the need to pull multiple or irrelevant reports.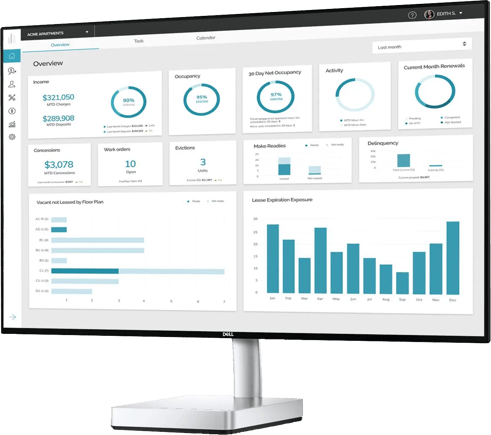 Property Dashboard with KPIs
Property managers need a firm grasp of where they stand, and they're usually digging through unnecessary reports in order to get this snapshot. Durham notes that Fortress users can see and analyze all the most valuable information — including how a property is performing and any tasks that need to be completed — at a glance. To easily keep an eye on those numerous, sometimes simultaneous, operations, our Task Tab provides a snapshot of everything related to the onsite team. Users have easy access to any pending actions or outstanding tasks.
Check out a video of our dashboards below and you'll see what we mean:
Real-Time Walkthroughs
Even if it's not as often, we're there when you need us. Durham notes that if a user is struggling to complete a task, Fortress' real-time walkthroughs will quickly lead them to whatever process they're trying to complete — saving them time and plenty of clicks.
Seamless Payment Processes
We worked hard to vet the best payment processor — and Fortress users reap all the benefits. With our payments partner (check out our blog post on integration partners) rent collection is a simple, one-step process that records everything from deposits and transactions to resident ledgers. This straightforward processing results in clean, worry-free bank reconciliations
Your time is valuable! Pick a time below to see the time savings Fortress can offer for yourself: